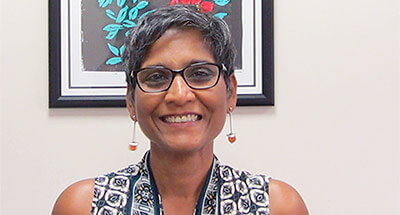 Monisha Das Gupta
Professor
Office: George 306
Telephone: 1 (808) 956-2914
Email: dasgupta@hawaii.edu
Background
I grew up in Kolkata, India, where I developed my feminist politics. I was inspired by the women in my family who broke away from convention, and by the visible signs of an array of feminist issues in the political culture of my city. I came to the United States for graduate studies already schooled in what we in the US academy call "Third World feminisms." The seeds of my approach to teaching were also sown in Kolkata. I had caring school teachers and college professors, who demanded that we do our best work. I strive to create a college experience, similar to mine, for my UHM students so that they can thrive intellectually and interpersonally.
Education
PhD, Sociology, Brandeis University, 1999
MA, Sociology, Brandeis University, 1994
Diploma in American Studies, Smith College, 1990
BSc, Geography, Loreto College, Kolkata, India, 1984
Research Interests
I study migrant-led movements for social justice. I approach this subject from a feminist and critical ethnic studies framework. My research methods are qualitative. It has contributed to developing transnational feminist approaches to migration. I specialize in the South Asian diaspora in the United States, and, over time, my research interests in movements for labor, racial and gender justice have expanded to my working with many other ethnic groups. All my research is closely tied to community-based organizing. I involve graduate and advanced undergraduate students in my research. My current research project focuses on anti-deportation organizing in the United States.